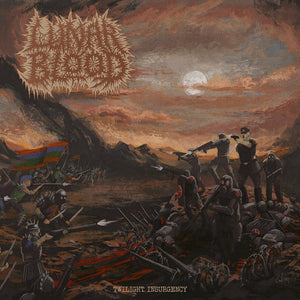 LUNAR BLOOD To Release Debut Album, Tracklisting & New Song Available
New Jersey HM-2 assassins LUNAR BLOOD will release their debut album "Twilight Insurgency", scheduled for an 18th February 2022 on CD format. Release date for vinyl version will be announced at a later date.
Engineered and mixed by Scot Moriarty at Backroom Studios (Sunrot, Heavy Sigh, Unhinge, etc) with mastering duties by Brad Boatwright at Audio Siege (Trap Them, Gatecreeper, Full Of Hell, etc); "Twilight Insurgency" is an unbridled force of demented Hardcore dabbling in the ethos of Death Metal, soaked in the dark subconscious views of the world.
Featuring the imposing artwork by Misanthropic Art (Bell Witch, Asphyx, Chapel Of Disease, etc).
Tracklisting:
1. Purified Rot
2. The Hammer
3. Gastrointestinal Industrial Complex
4. Ululating In The Depths
5. Wrath March
6. Parliament Of Trees
7. Gnawed
8. God Of The Trainwreck
9. Pig Hunter
Listen to 'Wrath March', a brand new track taken off from "Twilight Insurgency" at this location:
---